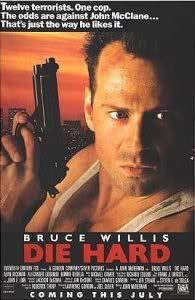 What exactly happened to John
McTiernan
?
Happened to stumble across Die Hard this afternoon, and of course I had to stop and watch for a few. Despite being 20 years old, it holds up fantastically well. Not a huge fan of Mr. Willis, but, he's in the right movie at the right time. Alan
Rickman
is wonderful as
faux
terrorist Hans
Gruber
. The way that Beethoven's Ode to Joy is intertwined in the score... brilliant (especially the scene when the vault is finally opened towards the end). All in all, an excellent movie.
My wife isn't as familiar w/ Die Hard as I am, and I proceeded to drop some Movie Nerd on her about the cast, crew and random trivia. When I stopped at director
John

McTiernan
, I struggled to come up w/ anything he had done recently. Here's a guy w/ a quality resume of some great (and occasionally overlooked) action flicks. Three of his first major films, were classics. The under appreciated Predator (1987), Die Hard (1988) and The Hunt For Red October (1990). It's impossible the channel flip and not stop when you come across one of these (admittedly) Guy Movies.
After Red October comes Medicine Man and The Last Action Hero. Medicine Man features a
Razzie
nominated performance by Lorraine
Bracco
. Last Action Hero was a bomb and pretty much signalled the end of the late 1980's One Man Wrecking Crew action flicks. Truth be told, I don't think the flick is as bad as some people contend. For fans of action movies, there are a lot of inside jokes that make fun of the genre.
Die Hard: With A Vengeance (Die Hard 3) was next. Personally, it's my second favorite of the four installments of the series.
From there, it's a string of ho-hum followed by a mixture of mediocre and crap.
He's recently made headlines for being involved in the Anthony
Pellicano
scandal and last I saw, was working on a plea deal to avoid time on a conviction of lying to the FBI.
I guess he was collateral damage when the action genre finally imploded....