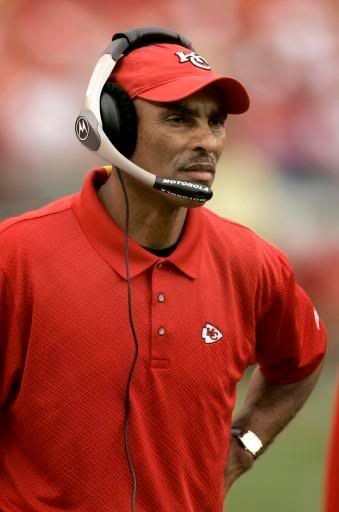 Herm Edwards was finally fired today. Herm's a good and decent man, but his track record as a head coach is pretty dismal.
I think he would be a good fit on another staff, because he's a no nonsense guy. As we saw with the Larry Johnson 2008 campaign, Herm's not intimidated by punk kids w/ outlandish contracts (or the GM that drafted them...). I bet he honestly thought he was doing the right thing by benching Johnson in mid-season. The results are still in the air, but the intent was to show Johnson that team comes first and assaulting women and being an overall bitch, comes second. I hope Johnson is the next to go, and can go about embarrassing the NFL in another city.
In addition to tire marks on his back, courtesy Gunther Cunningham, Herm takes with him his dignity. Some may argue that he talks too much when in front of the media (agreed), but I have no doubt that he will say all the rights things on his way out of town. Herm is a "League Guy" and I don't doubt that he would run the risk of tarnishing the league, by talking shit about the Chiefs, Carl Peterson or the Hunt family.
The always ranting Jack Harry broke the story earlier this week that Mike Shanahan, formerly of the Denver Broncos, is in line to be the 11th head coach of the once proud Chiefs. I suppose it's possible. But since Elway retired, Shanahan hasn't been much better than Edwards. Jake Plummer, Brian Griese and Jay Cutler (and others I would assume) were all brought in on Shanahan's watch, and despite a few pro bowl appearances, haven't fared much better than Damon Huard, Brody Croyle or Tyler Thigpin. The conspiracy theorist in me, is hoping that Carl Peterson, as one final "fuck you" to Jack Harry, planted the story to embarrass the fool. That would be sweet.
There's also talk about former Oakland & Tampa coach Jon Gruden coming in to save the day. He did win a Super Bowl with the Bucs, but it was in his first year, with Tony Dungy's players and Brad Johnson, a journeyman QB. Gruden's track record of developing a young, franchise QB is even worse than Herm's.
The other hot name out there, is the offensive coordinator from the Super Bowl bound Arizona Cardinals (damn, feels strange to type that). He's 42 years old and his name is Todd. Do we really care about the rest? Maybe it's time to go with young coaches to match the young players? If they are going to stand on the sidelines bungling clock management, when to go for two points and just look lost & overwhelmed, why not let a few young pups take their lumps and learn with the rest of the team?