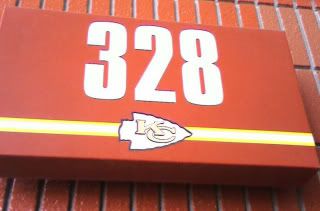 My best friend Patrick has had season tickets to the Kansas City Chiefs since 1989.
Section 328, row 8, seats 12 and 13
. With the exception of 1991, I think we went to
just about every game
together. Other years, were split up or sold off as circumstances dictated. But the one constant was that we always went to at least one game a year together. Today, the Chiefs hosted the Tampa Bay Buccaneers, and it was our last game in the seats we have shared for 19 years.
If I remember correctly, the first year season was 10 games @ $25 each. Parking was $5. We were both in high school and so Patrick's dad paid for the tix. Almost positive it took me the whole year to pay him back.
As with any long time friends... we tell the same jokes each week, reminded each other about how Marcus Allen was so good at keeping his legs moving (Pump those knees!), made up words to the Tomahawk Chop and marveled at how much Christian Okoye loved the pot pies from the good folks at Swanson's. As with most guys, we even have a running, dirty joke that can't really be mentioned here.
If the Chiefs were a publicly traded stock, there would have been a sell off about 10 years ago. But the unique thing about pro sports, is that an organization can convince their loyal fans that they are just "one player away" from greatness. This was true in 1993 w/ the combination of Joe Montana and Marcus Allen. Since then, the team has been chasing their tail with mixed success. Trent Green, Priest Holmes and Will Roaf: good. Brett Perriman, Elvis Grbac, Shawn Barber, Ty Law: not so good.
The organization as a whole, is in disarray. Bad coach, bad management and an owner that appears to only be interested in the status quo and fleecing the good folks of Jackson County Missouri for stadium renovations. Neither of us have much of an interest in rewarding the organization for what has been a disaster since the day Dick Vermeil was hired. Sure they were fun to watch, but we all knew there were problems. Kind of like dating a stripper... fun while the going is good, but destined to fail.
I got the feeling a few years ago, that unless something dramatic happened, time was running out on our seats. Patrick toughed it out for the first two years of Herm's regime, and then that was it. No more. I know it wasn't an easy decision, but at the end of the day, why pay top dollar for a mediocre product? Why make the emotional investment when Carl Peterson and Herm Edwards look down on the fans with contempt?
We got to Arrowhead around 11:00 today. Had a few beers on the way in to Arrowhead, and took our seats for the last time. There were a lot of
empty
seats. There will be two more next year.